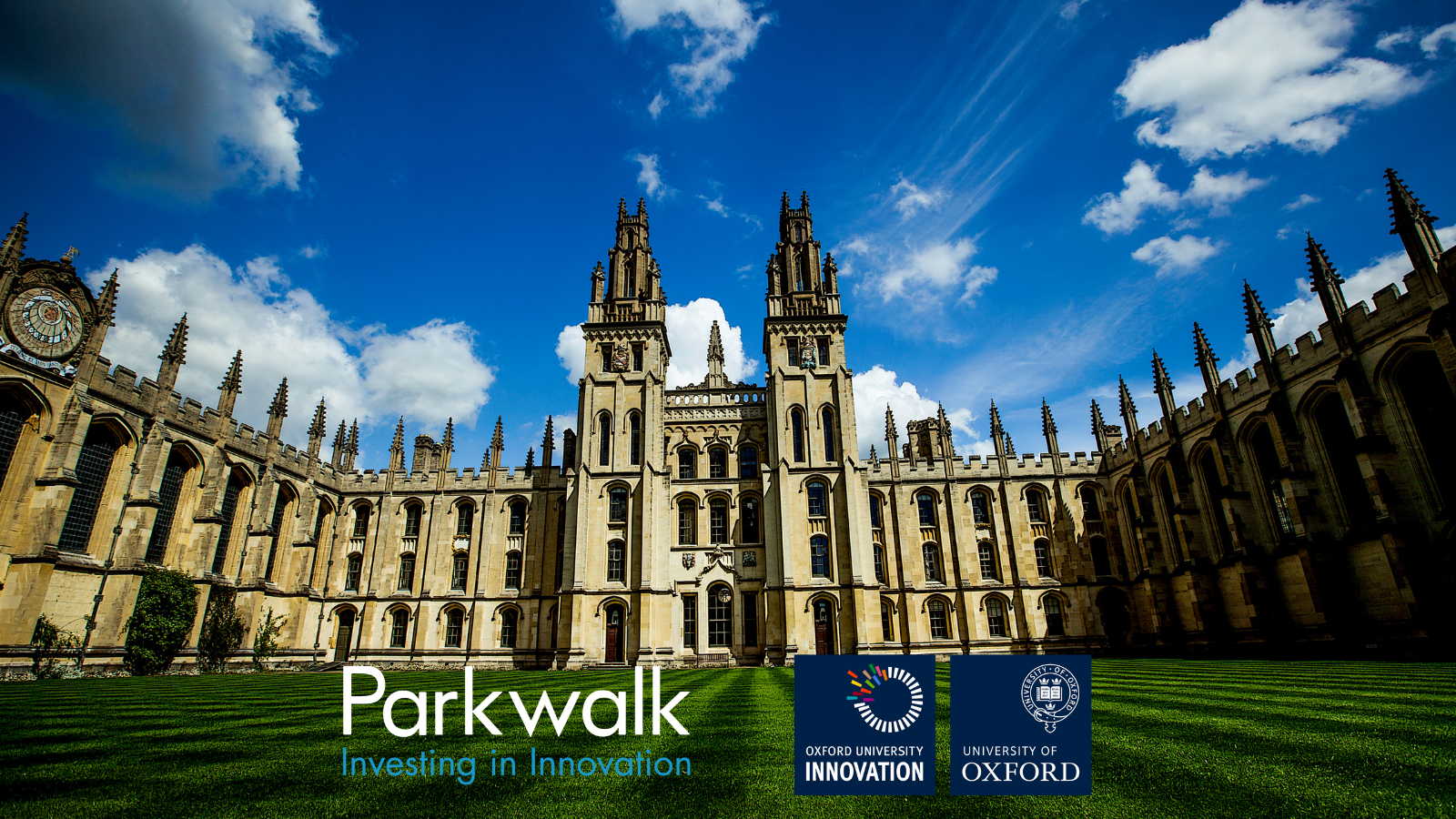 We are delighted to announce the launch of our University of Oxford Innovation Fund (UOIF) VI. The fund is managed by Parkwalk, in conjunction with the University of Oxford's Technology Transfer Office, Oxford University Innovation. The Fund invests in early-stage hard science and deep-tech companies, spun-out of the University of Oxford, the UK's largest research-based university.
Monday 26th June 2023, London: Parkwalk today announced the launch of the University of Oxford Innovation Fund VI (UOIF VI), the sixth fund in a decade long partnership with Oxford University Innovation (OUI). The new fund will once again invest in companies seeking to commercialise discoveries made at the University of Oxford and the broader University of Oxford technology cluster, enabling investors to support the introduction of innovative technologies, whilst generating attractive returns and benefiting from incentives provided under the Enterprise Investment Scheme.
Previous University of Oxford Innovation funds have provided financial backing to 25 early-stage science and tech-based businesses, such as Brainomix – a specialist in AI-powered imaging of biomarkers, which is revolutionising the time-sensitive treatment of strokes – and Mind Foundry – a developer of advanced machine learning algorithms, which recently closed an £18 million Series C funding.
The launch of UOIF VI follows a recent report by Beauhurst naming the University of Oxford as the leading academic institution in the UK for generating spinout companies. OUI, the University of Oxford's technology transfer office, has now helped to create over 300 companies, which have in turn raised more than £6billion in external investment since 2010. Last year alone saw the inception of 15 new spinout companies, raising over £935m in fields as varied as optical neural networks and algorithms for quantum computers. The organisation now has nearly 5,000 patents under management, and the pipeline of investment opportunities remains strong, with seven companies spun out in 2023 so far.
Parkwalk is the largest growth EIS fund manager and backs world-changing technologies emerging from the UK's leading universities and research institutions. With £500m of assets under management, the company has invested in over 160 companies across its own funds, and those it manages for the University of Oxford and others.
Moray Wright, Parkwalk CEO said: "We know from experience that the University of Oxford is buzzing with entrepreneurial thinkers and breakthrough innovations. But for great ideas to become great industries, early-stage businesses need a helping hand.
"That's why we're proud to have partnered with Oxford University Innovation for almost a decade. Together, we can help a new generation of high-potential companies to unlock the funds they need to grow, while providing opportunities for investors that not only benefit the bottom line but have a positive impact on the world around us."
Adam Workman, Head of Investments and New Ventures at OUI added: "With the partnership between Oxford University Innovation and Parkwalk Advisors nearing ten years it's great to see the launch of UOIF VI. There is an exciting pipeline of investment opportunities from the vibrant Oxford ecosystem for UOIF VI to invest in."
Find out more information about the Fund here.
Date approved: 26/06/2023
Parkwalk Advisors Limited (Parkwalk) is authorised and regulated by the Financial Conduct Authority: FRN 502237. Investments referred to in this news article are not suitable for all investors. Capital is at risk and investors may not get back the full amount invested. Any investment in a Parkwalk product must only be made on the basis of the terms of the full Information Memorandum. Tax treatment depends on the individual circumstances of each investor. Parkwalk is not able to provide advice as to the suitability of investing in any product. Past performance is not a reliable indicator of future results.
Do not invest unless you are prepared to lose all the money you invest. This is a high-risk investment and you are unlikely to be protected if something goes wrong. Take 2 mins to learn more.