Do not invest unless you are prepared to lose all the money you invest. This is a high-risk investment and you are unlikely to be protected if something goes wrong. Take 2 mins to learn more.
The Parkwalk Knowledge Intensive EIS Funds are designated by HMRC as Approved EIS Funds and mirror the investment strategy of our flagship Opportunities EIS Fund, investing in high-growth, knowledge intensive companies. As Approved EIS Funds, they differ from Unapproved EIS Funds in a number of ways, including greater simplicity of administration, with all initial income tax relief linked to the Fund Close Date, and claimed via just one EIS5 certificate.
The Parkwalk Knowledge Intensive EIS Fund I closed in April 2021 and was fully invested in May 2022. EIS5 certificates were issued in August 2022.
The Parkwalk Knowledge Intensive EIS Fund II reached capacity ahead of its close date in April 2022 and is currently being invested.
£25,000 Minimum Subscription

Close date End of Tax Year

Single EIS5 certificate, post 12-18 months target deployment

Income tax relief can be claimed in the tax year of the Fund Close Date or carried back one tax year
Knowledge Intensive Fund
Parkwalk have been investing in university spin-outs since 2009 and have invested in 150+ companies
Parkwalk have established a successful track record for returning cash to investors. The Fund, which has been approved by HMRC, aims for capital growth by investing in knowledge intensive technology companies that have defensive intellectual property (IP), that has spun-out from UK's leading research institutions and top universities nationwide.
Defined investment strategy focusing on the UK University spin-out asset-class.
Diverse asset allocation across sector and maturity to help mitigate risk.
Strong deal flow via University Funds, existing portfolio and key relationships.
The Parkwalk EIS Knowledge Intensive Funds have been independently reviewed by Tax Efficient Review and MICAP.
Tax Efficient Review: 88/100
MICAP Review Available
Parkwalk Testimonals
"Parkwalk have returned, in cash, more than investors' subscriptions in five of their funds within four years. Each of those funds still has 'live' investments that should generate further returns for investors. Parkwalk are now a leading EIS provider within the growth EIS market."

– Tax Efficient Review
Parkwalk EIS Knowledge Intensive Fund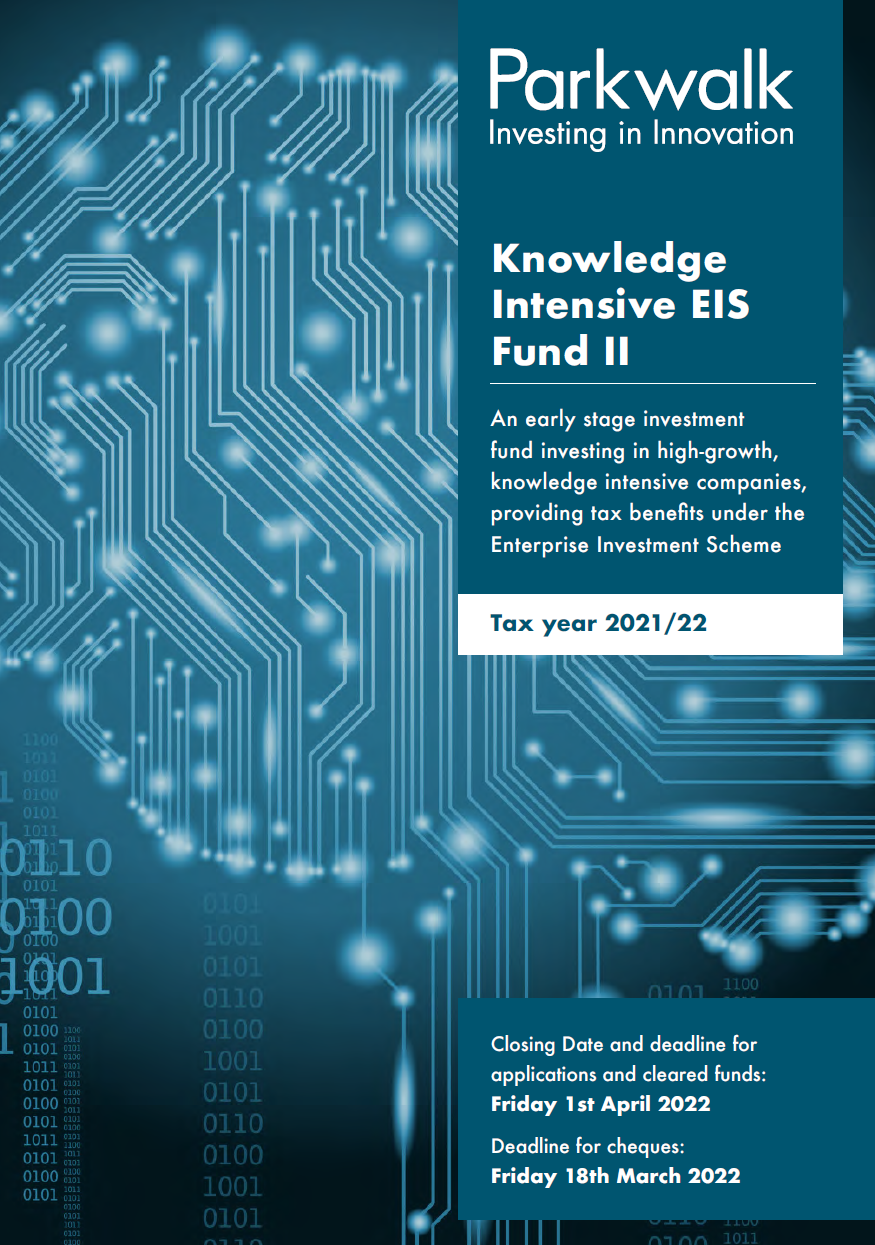 Risk Warning
The investments described in this website will place your capital at risk. Past performance may not be repeated and is not indicative of future results. Tax reliefs are dependent on investors' individual circumstance and are subject to change. An investment in a fund managed by Parkwalk must be made only on the basis of the fund's Information Memorandum and Key Information Document. Parkwalk does not provide investment or tax advice, and the information on this website should not be construed as such.
Parkwalk is the trading name of Parkwalk Advisors Limited, which is authorised and regulated by the Financial Conduct Authority (FCA) (FRN: 502237). Parkwalk is registered in England & Wales (registration number 06925696) at 3 Pancras Square, King's Cross N1C 4AG. Parkwalk is an IP Group plc company.