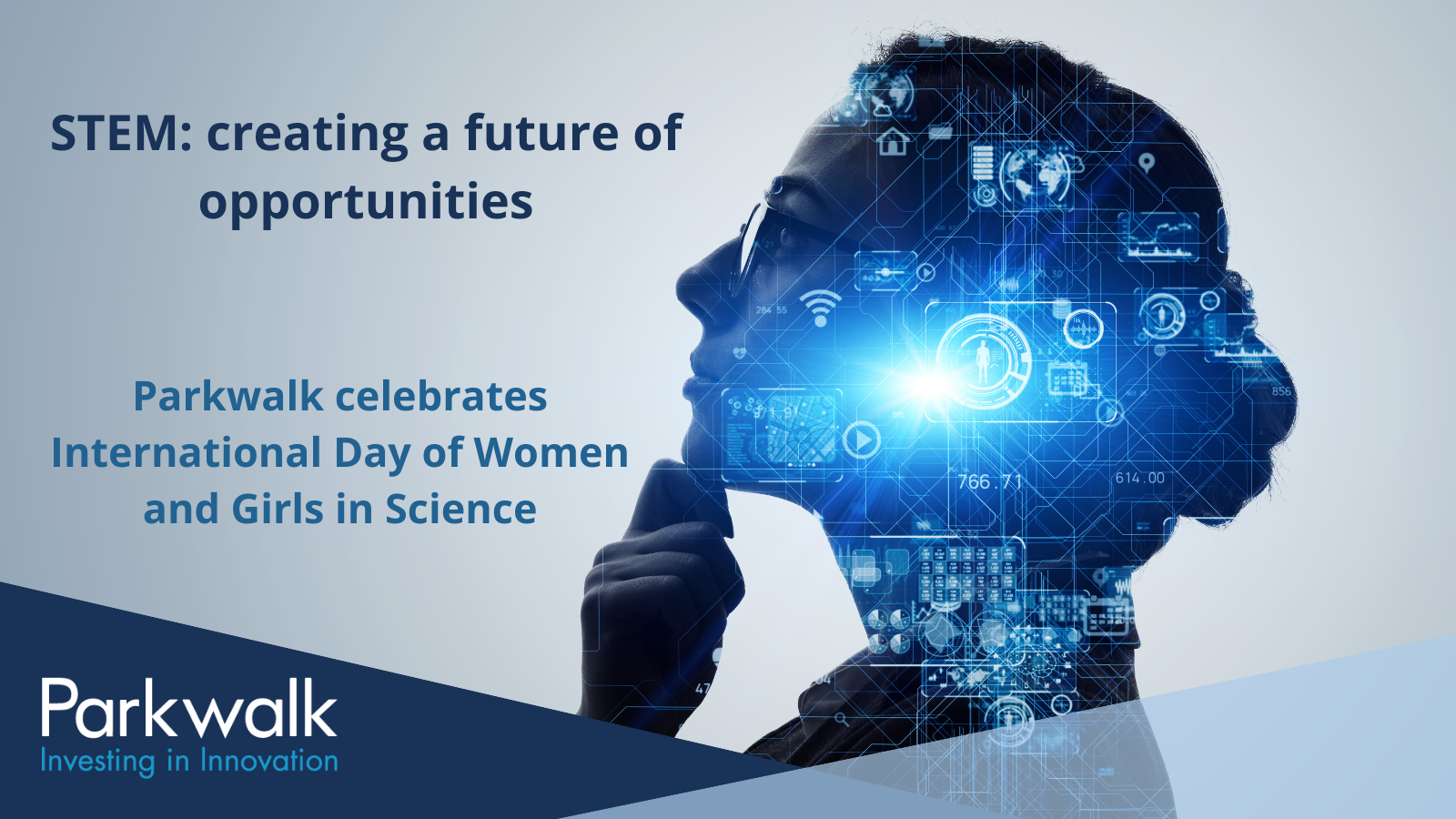 Parkwalk is delighted to celebrate International Day of Women and Girls in Science 2023. This year we focus on the endless opportunities STEM opens for women and girls, around the globe.
Parkwalk's own Dr Cassie Doherty, Dr Karolina Zapadka and Claire Pardo share their thoughts on how STEM subjects have helped to shape their careers, in our latest video. STEM subjects create so many opportunities for millions of women and girls around the world. From learning transferable skills to helping innovation, STEM subjects drive the development of analytical thinking, evaluative thought and so much more. Studying a STEM subject at university, does not mean you are limited to finding a career in science, it's the opposite; STEM subject only broaden your horizons.
Click here to watch the video, or see below.
Here at Parkwalk, we back world-changing technologies emerging from UK universities and research institutions. As it's International Day of Women and Girls in Science, we would specifically like to celebrate the exceptional work of the Women Founders, CEOs and CSOs in the Parkwalk portfolio, who are driving positive change in the world. The list below is just a handful of inspiring women in our portfolio; there are many more:
Virginia Corless, CEO, MoA Technology
Louise Modis, CSO Mogrify
Stephanie Martlew, CEO Psyomics
Melinda Martlew – COO at Psyomics
Lucy Jung, CEO and Founder, Charco Neurotech
Katie Binley, CTO Ikarovec
Jing Zhang, Founder and Strategy & Innovation Director, AqDot
Lydia Campbell, CSO and Founder, Nandi Proteins
Emanuela Maggioni, CEO and Co-Founder, OWidgets
Lisa Patel, CEO and Founder, Istesso
Carolyn Porter, CEO, Cytoseek
Ilana Wisby, CEO, Oxford Quantum Circuits
Marianna Obrist, CSO and Co-Founder, Owidgets
Hannah Sore, CEO and Founder, PharmEnable
Umaima Malik Ahmad, Co-Founder 52 North Health
Sakthy Selvakumaran, CEO and Founder BKwai Limited
Carmen Palacios-Berraquero, CEO and Co-Founder Nu Quantum
Dame Clare Grey, CSO and Co-Founder Nyobolt
Rebecca Simmons, COO Riverlane
Fenella Boyle, CEO and Co-Founder, VersedAI
Harriet Bray, Founder and COO, Zentraxa
Ruth Whittacre, FD and Co-Founder, CISIV
Dr Catherine Elton, CEO & Founder Qkine
Hao Zheng, Founder & CEO RoboK
Giorgia Longobardi, CEO & Founder, Cambridge GAN Devices
Rebecca Kinsley, COO and Founder, DIOSynVax
Agne Milukaite, CEO and Co-Founder, Cycle.Land
Professor Sabine Bahn, Co-Founder, Psyomics
Catherine Beech MB,ChB,OBE, CEO and Founder Exonate
Myriam Ouberai – CEO at Spirea
Debora Lucarelli – CEO at Enhanc3D Genomics
Charlotte Guzzo – founder & COO at Sano
Thank you to all the amazing women in our portfolio who are continually striving for positive change.
Watch our video on STEM: Creating of future of opportunities.