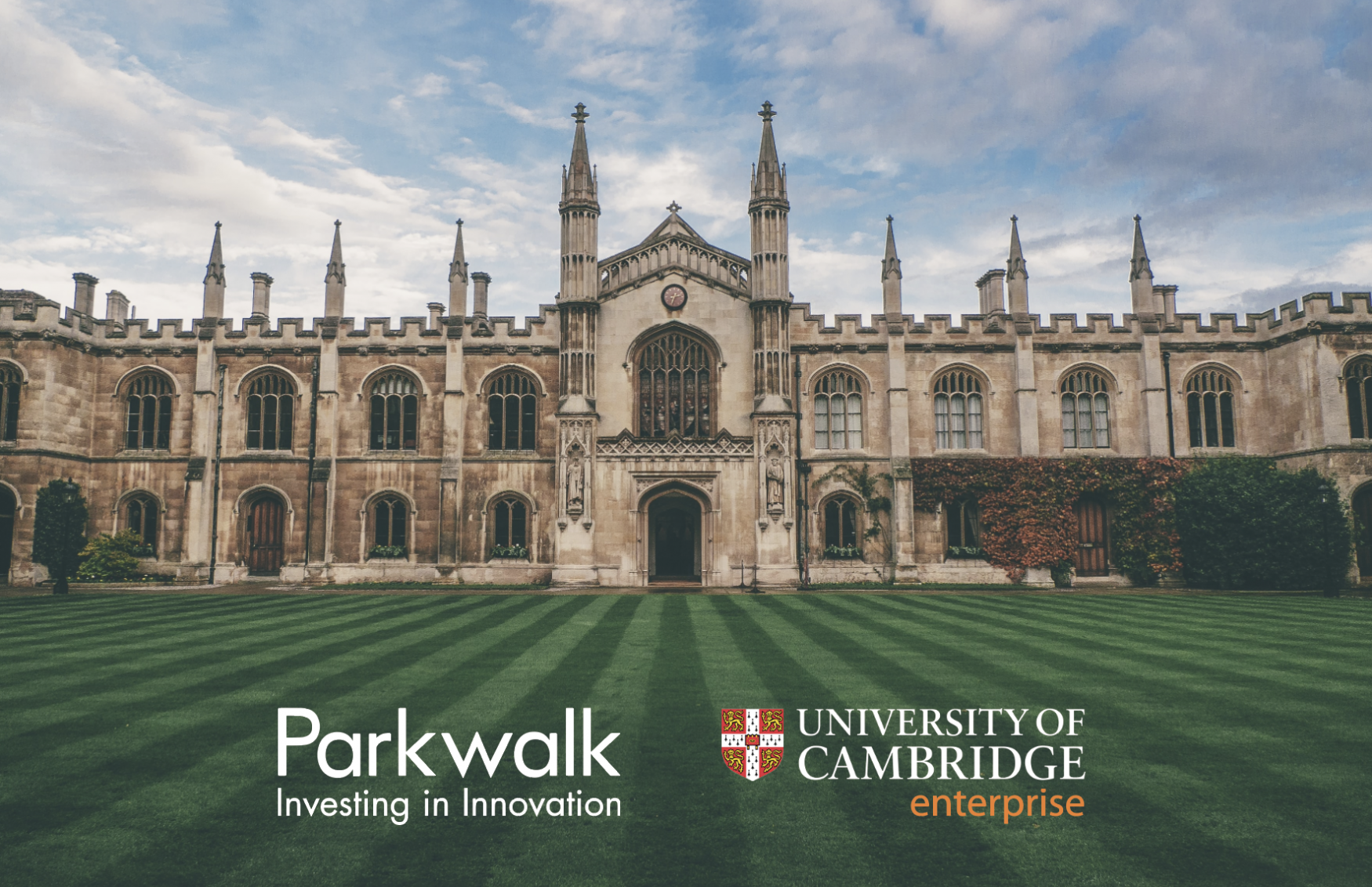 The University of Cambridge Enterprise Fund IX once again brings together Cambridge Enterprise and Parkwalk, which has now overseen over £100m of investment and completed over 50 joint investments into Cambridge-based companies, to offer an early-stage, growth-targeted investment fund.
London, 26th April 2022: The University of Cambridge has launched its ninth Enterprise Fund, managed by university spinout fund manager Parkwalk in conjunction with Cambridge Enterprise, the University's research commercialisation arm. First launched in 2012, these funds offer alumni, those associated with the University, and investors the opportunity to invest in companies spun out of the University of Cambridge in a tax-efficient manner through the Enterprise Investment Scheme (EIS).
Cambridge is one of Europe's most productive technology clusters. Having spawned 20 companies valued at more than $1 billion, the University of Cambridge has a long history of producing disruptive technologies. From August 2012 to December 2020, the University of Cambridge Enterprise Funds I through VIII have achieved 11 realisations, generating over £10 million.
Parkwalk's Cambridge funds have invested over £22 million over the nine years in operation and have generated attractive returns to date. Investing in the University of Cambridge Enterprise Fund IX is a continuation of that activity and is an attractive way to support the University's drive to create global impact and accelerate the introduction of innovative technologies. The objective of the Enterprise Fund is to invest in a portfolio of early-stage, high-growth, knowledge-intensive companies spun out from the University, across sectors such as artificial intelligence, big data, life science, materials and quantum computing.
Parkwalk has been the UK's most active investor in world-changing technologies emerging from the UK's leading universities over the past ten years, and has now completed over 50 joint investment in Cambridge based companies through the Cambridge University Enterprise Funds.
Cambridge Enterprise is a leading University research commercialisation arm with a successful record of supporting new technology businesses arising from the University. Its performance is demonstrated by the follow-on funding obtained by portfolio companies, the number of products reaching market, levels of new employment created, financial return on its early-stage investments, and royalty payments on its technology licences.
Both Cambridge Enterprise and Parkwalk believe university spinouts are a unique asset class in early-stage and growth investing. The technologies are well-tested, with strong IP protection, developed by leading experts in their field, and are often seeking to solve the world's greatest challenges, with a natural alignment to ESG and social returns, as well as generating financial returns.
Dr Christine Martin, Head of Seed Funds, Cambridge Enterprise, said: "The University of Cambridge Enterprise Funds have been an important source of additional funding of our young companies. They are a great way for Cambridge alumni and friends to help create economic and social impact based on University research. Parkwalk has been a valued partner since the launch of these funds and has played a huge role in their success."
Moray Wright, CEO of Parkwalk, commented: "We are delighted to be launching the University of Cambridge Enterprise Fund IX. It's ten years since the first UCEF fund, and it has been a fantastic journey. These funds have helped facilitate the spin-out of over fifty companies which have had many positive impacts for society and also generated very healthy returns for investors. Cambridge is one of the world's great universities, and has an unbeatable pedigree in innovation. This fund takes advantage of the UK's world-leading position in R&D and our position as the most active investor into UK university spinouts".
Cambridge Enterprise
Part of the University of Cambridge, Cambridge Enterprise supports academics, researchers, staff, and students in achieving knowledge transfer and research impact. We do this by helping innovators, experts, and entrepreneurs use commercial avenues to develop their ideas and expertise for the benefit of society, the economy, themselves, and the University.
Liaising with organisations both locally and globally, we offer expert advice and support in commercialisation and social enterprise, including help with academic consultancy services, the protection, development and licensing of ideas, new company, and social enterprise creation, and seed funding.
For more information, please visit: www.enterprise.cam.ac.uk
To request fund documentation or more information on the University of Cambridge Enterprise Fund IX please click here, or email our team ucef@parkwalkadvisors.com
Parkwalk Advisors Limited (Parkwalk) is authorised and regulated by the Financial Conduct Authority: FRN 502237. Investments referred to in this news article are not suitable for all investors. Capital is at risk and investors may not get back the full amount invested. Any investment in a Parkwalk product must only be made on the basis of the terms of the full Information Memorandum. Tax treatment depends on the individual circumstances of each investor. Parkwalk is not able to provide advice as to the suitability of investing in any product. Past performance is not a reliable indicator of future results.
---