A collaboration between Parkwalk and Cambridge Enterprise
---
Launched in 2012, the University of Cambridge Enterprise Fund offers Cambridge alumni and investors opportunities to invest into early-stage scientific and technology companies as they spin-out of Cambridge University. The University's Tech Transfer Office – Cambridge Enterprise – is the Portfolio Advisor to the Fund, which utilises the tax reliefs available through the Enterprise Investment Scheme (EIS).
Cambridge Enterprise Fund
Cambridge University is consistently rated in the top 5 universities in the world, is top of the league for capital raised by their spinout companies 2013-2017, ranking an epic second place in total deals.
Award winning Cambridge Enterprise, a wholly owned subsidiary of Cambridge University, champions world-changing innovation and seeks funding support for the University's commercially viable discoveries. From patenting and licencing inventions to investment, Cambridge Enterprise has made a global impact from the commercialisation of University research. The University of Cambridge Enterprise Funds invest in companies selected by Cambridge Enterprise, providing a head start as they enter the initial stages of commercial product development.
The Fund utilises the tax reliefs of the government's EIS and SEIS schemes where applicable.
£25,000 Minimum Subscription.
Early-stage seed and follow-on investing.
Parkwalk Testimonals
"The University of Cambridge Enterprise Funds have been an important new source of funding for our young companies and are a great new way for Cambridge alumni and friends to support the University. Parkwalk has been a valued partner since the launch of these funds and has played a huge role in their success."

– Dr Anne Dobrée, Head of Seed Funds. Cambridge Enterprise
University of Cambridge Enterprise Fund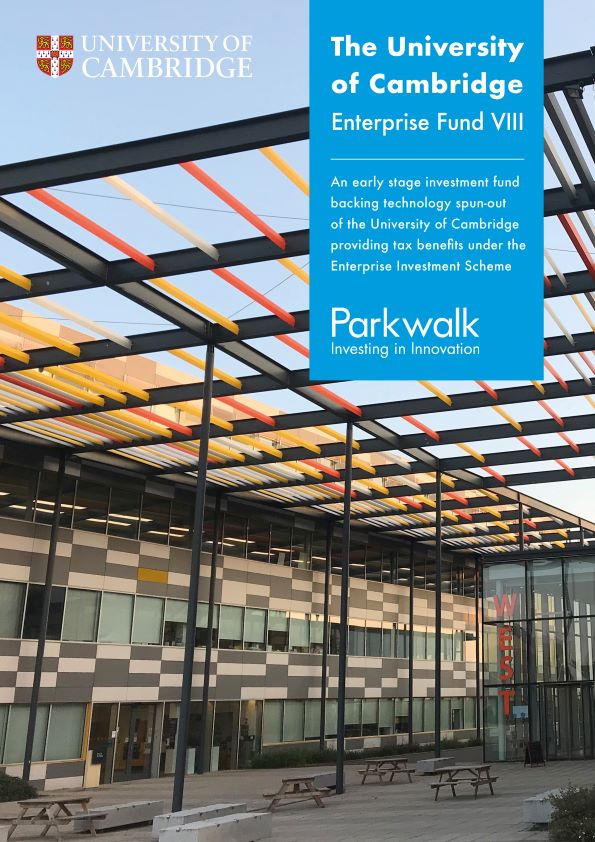 Risk Warning
The investments described in this website will place your capital at risk. Past performance may not be repeated and is not indicative of future results. Tax reliefs are dependent on investors' individual circumstance and are subject to change. An investment in a fund managed by Parkwalk must be made only on the basis of the fund's Information Memorandum and Key Information Document. Parkwalk does not provide investment or tax advice, and the information on this website should not be construed as such.
Parkwalk is the trading name of Parkwalk Advisors Limited, which is authorised and regulated by the Financial Conduct Authority (FCA) (FRN: 502237). Parkwalk is registered in England & Wales (registration number 06925696) at Warwick House, 25 Buckingham Palace Road, London, England, SW1W 0PP. Parkwalk is an IP Group plc company.