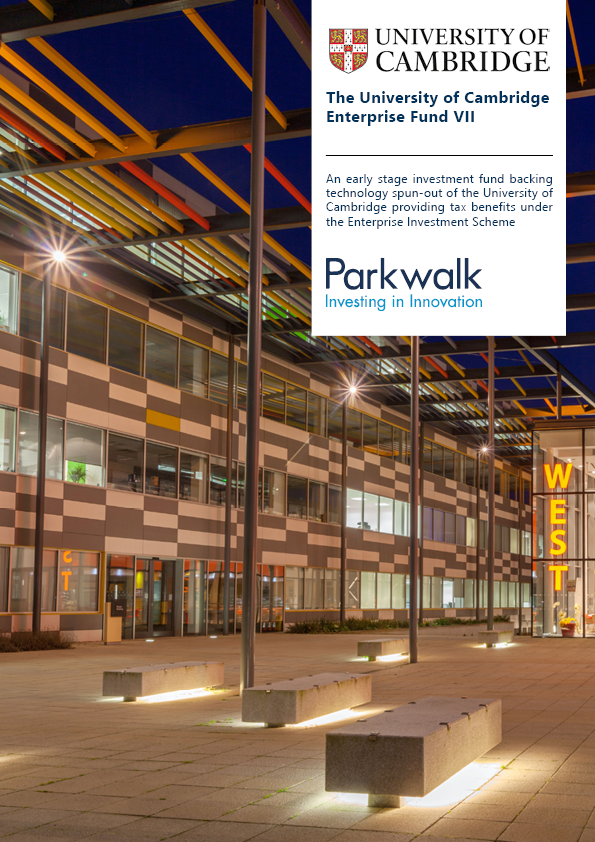 The University of Cambridge launches its seventh Enterprise Fund, investing in companies that commercialise scientific and technological discoveries at the university
The University of Cambridge Enterprise Fund VII once again brings together Cambridge Enterprise and Parkwalk to offer an early stage, growth-targeted investment fund
London, 18th February 2020: The University of Cambridge has launched its seventh Enterprise Fund, managed by university spinout fund manager Parkwalk in conjunction with Cambridge Enterprise, the University's Technology Transfer Office. Launched in 2012, the Fund offers alumni, those associated with the university and investors the opportunity to invest in companies spun out of Cambridge University in a tax efficient manner through the Enterprise Investment Scheme (EIS).
The University of Cambridge has a long history of producing disruptive technologies and it sits at the heart of Cambridge, Europe's most productive technology cluster, which has produced eighteen companies valued at more than $1 billion, including CSR and CMR Surgical. The commercial development of these technologies supports the University's mission to disseminate the results of its research and scholarly activities for the benefit of society. Investing in the University of Cambridge Enterprise Fund VII is an attractive way to support the University's drive to create global impact and to accelerate the introduction of innovative technologies.
The objective of the Enterprise Fund is to invest in a portfolio of early stage high-growth, knowledge-intensive companies spun out from the University of Cambridge. The Fund will invest in opportunities related to the University, whether founded by a member of staff or a student, or has a research or development link to the University. From August 2012 to December 2019, the University of Cambridge Enterprise Funds I – VI have achieved 11 realisations generating over £8.9m and were each fully invested/committed over a 12-18 month timeframe.
Cambridge Enterprise is a leading technology transfer organization with a successful record of supporting new technology businesses arising from the University. Its performance is demonstrated by the follow-on funding obtained by portfolio companies, the number of products reaching market, levels of new employment created, financial return on its early stage investment and royalty payments on its technology licenses.
Parkwalk has been the UK's most active investor in world-changing technologies emerging from the UK's leading universities and research institutions over the past five years. Parkwalk believe university spinouts are a unique asset class in early-stage and growth investing, because they typically have years of research and development underpinning their technologies before they seek investment to commercialise. They are well tested, with strong IP protection, developed by the leading experts in their field, and are often seeking to solve the world's greatest challenges. This provides high-quality opportunities with recent research highlighting a significantly lower failure rate than the wider startup community.
Dr Anne Dobree. Head of Seed Funds, Cambridge Enterprise, said: "The University of Cambridge Enterprise Funds have been an important new source of funding for our young companies and are a great way for Cambridge alumni and friends to support the University's innovation. Parkwalk has been a valued partner since the launch of these funds and has played a huge role in their success"
Moray Wright, CEO of Parkwalk, commented: "We are delighted to be managing the University of Cambridge Enterprise Fund VII. Cambridge is one of the world's great universities and has an unbeatable pedigree in innovation – the source of the jet engine, the structure of DNA, monoclonal antibodies and plastic electronics. Its start up companies are developing disruptive technologies that can have global impact and benefit wider society, as well as create the potential for significant investor returns."
There is more detail about the Fund here and a summary of Cambridge Enterprise's activities here.

If you are interested in investing in the fund please contact the Parkwalk team on icif@parkwalkadvisors.com or 020 7759 2285
Parkwalk Advisors Limited (Parkwalk) is authorised and regulated by the Financial Conduct Authority: FRN 502237. Investments referred to in this news article are not suitable for all investors. Capital is at risk and investors may not get back the full amount invested. Any investment in a Parkwalk product must only be made on the basis of the terms of the full Information Memorandum. Tax treatment depends on the individual circumstances of each investor. Parkwalk is not able to provide advice as to the suitability of investing in any product.