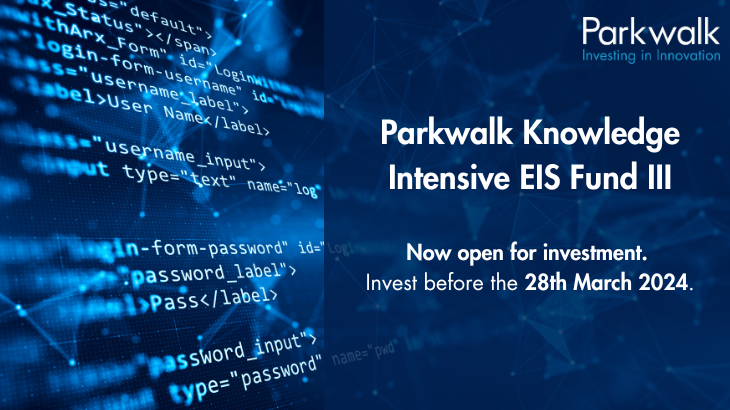 We are pleased to announce the launch of the Parkwalk Knowledge Intensive EIS Fund III, an HMRC-approved EIS Fund. As featured in Investment Week, the third Knowledge Intensive Fund will back cutting-edge technology companies spun out of leading UK universities and research institutions, mirroring the investment strategy of our Opportunities EIS Fund.
Parkwalk Advisors, the UK's most active investor in university spinouts, has launched its third Knowledge Intensive EIS Fund, which will invest in science and deep tech businesses from UK universities.
First launched in January 2021, Parkwalk's Knowledge Intensive Funds have raised over £45 million to date. The third fund, launching today, aims to raise a further £15 million for high-growth, knowledge intensive companies, whilst providing tax benefits to investors as a HMRC approved Enterprise Investment Scheme (EIS) fund. Knowledge Intensive EIS Funds have the advantage of providing investors with tax relief at a pre-determined date and with only one tax certificate, they offer a reduced administrative burden.
The fund will target innovative deep tech and science companies spun out from some of the UK's leading universities. Parkwalk's previous funds have backed companies such as clean energy technology provider Bramble Energy, semiconductor chip design company Accelercomm which recently secured £21.5m in its Series B funding round, and veterinary biopharmaceutical company PetMedix, which exited for a multiple return earlier this year in one of the first successful exits for a Knowledge Intensive EIS Fund.
This latest funding round aims to build on the success of Parkwalk's previous two Knowledge Intensive Funds, both of which reached capacity ahead of their close date.
Moray Wright, chief executive at Parkwalk, said: "Parkwalk has led the way in deploying tax-efficient investment to nurture and grow cutting-edge UK companies. We're incredibly proud to launch our latest Knowledge Intensive Fund, the third since 2021, as a continuation of our commitment to supporting our fast-growing science and deep tech sectors. The Fund will sit alongside our evergreen Parkwalk Opportunities EIS Fund, and will give our investors a simpler way to invest in EIS and access to our deal flow network. Much like a VCT, the Knowledge Intensive EIS Fund provides only one tax certificate to investors."
"Having surpassed our fundraising target in our two previous funds ahead of schedule, and with both funds now fully allocated, we look forward to building on this success by targeting even more investment into high-growth businesses spun out of the UK's world-leading universities."
With £500 million of assets under management, Parkwalk has invested in over 160 companies across its Parkwalk Opportunities and Knowledge Intensive EIS Funds, as well as the award-winning enterprise and innovation funds Parkwalk manages for the Universities of Cambridge, Oxford, Bristol and Imperial College.
Parkwalk has been the largest single EIS fundraise for four out of the five last tax years and was the first major EIS fund manager to launch a Knowledge Intensive EIS Fund in 2021. The Enterprise Investment Scheme is a government backed scheme which has provided tax relief to investors in spinouts and start-ups for 30 years. Through this scheme, Parkwalk has invested in numerous companies which have together secured over £2.5 billion in investment and generated over 5,000 skilled jobs.
Find out more about the Parkwalk Knowledge Intensive EIS Fund III, here. To request Fund documentation please email our team [email protected]
Do not invest unless you are prepared to lose all the money you invest. This is a high-risk investment and you are unlikely to be protected if something goes wrong. Take 2 mins to learn more.
Parkwalk Advisors Limited (Parkwalk) is authorised and regulated by the Financial Conduct Authority: FRN 502237. Investments referred to in this news article are not suitable for all investors. Capital is at risk and investors may not get back the full amount invested. Any investment in a Parkwalk product must only be made on the basis of the terms of the full Information Memorandum. Tax treatment depends on the individual circumstances of each investor. Parkwalk is not able to provide advice as to the suitability of investing in any product. Past performance is not a reliable indicator of future results. This financial promotion was approved on 09/11/2023