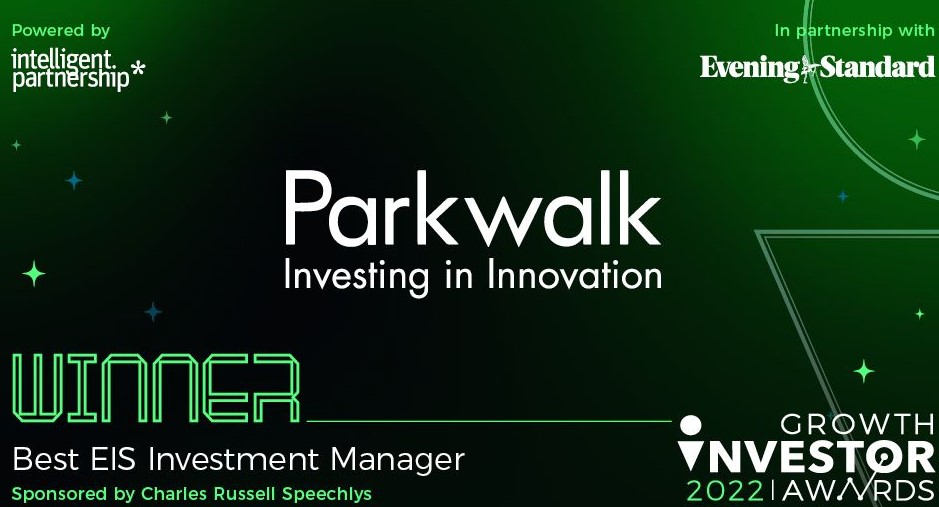 Parkwalk is thrilled to announce our win at the Growth Investor Awards 2022. Parkwalk was awarded 'Best EIS Investment Manager', recognising our deployment of capital, fundraising and returns to our investors.
Now in their 8th year, the Growth Investor Awards were organised by Intelligent Partnership. It was a night to celebrate businesses and individuals within the financial services and investment industries who back Research & Development companies. Claudia Winkleman hosted the awards alongside Intelligent Partnership's founder Guy Tolhurst.
The two-step judging process narrowed down entries across 28 award categories. This year's winners, runners-up and 'ones-to-watch', are at the forefront of investment, backing small to medium size businesses that are paving the way for the world's future.
Guy Tolhurst, the founder of Intelligent Partnership, said: "It's been a challenging year for everyone, that's why it was amazing – last night – to see a room full of the growth investor community celebrating the essential contribution they make in supporting the UK's fast-growing SMEs and Start-ups. They are so much more than just investment providers. Parkwalk Advisors are right at the heart of this alternative investments community, so it was brilliant to see them take away the top prize in such a competitive category. The judges rightly recognised their outstanding contribution this year."
Moray Wright, CEO of Parkwalk, said: "We were delighted to be recognised as Best EIS Investment Manager, reflecting the Parkwalk team's outstanding efforts in 2022 as we seek to generate investor returns by supporting the UK government growth agenda against a difficult macro-economic climate."
We'd like to thank everyone at Intelligent Partnership and Guy Tolhurst for another amazing event, as well as our fantastic guests who were there to celebrate successes across the industry.
To find out more about the awards, visit the Growth Investor website here, and find out more about Parkwalk here, or email [email protected] for more information.