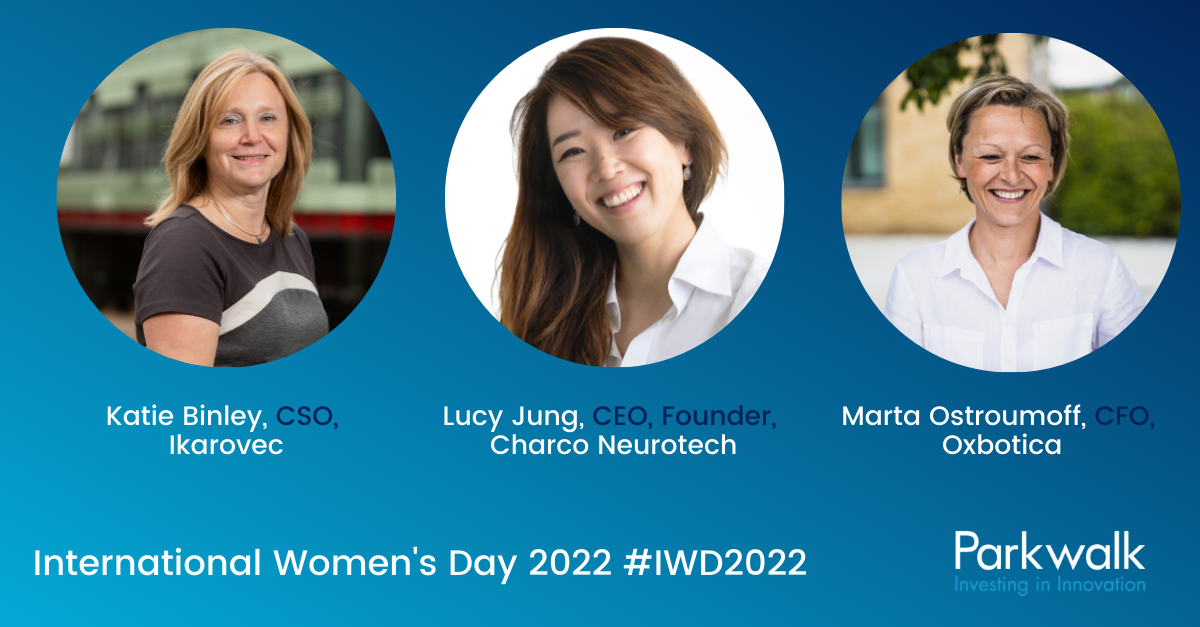 To celebrate International Women's Day 2022, we asked three of our portfolio companies with inspiring female leaders, a few questions around working in venture capital, gender equality and their achievements to date.
We are proud to work with such impressive individuals both within our portfolio and in our Parkwalk team. Read the short interviews below in celebration of IWD 2022.
---
Katie Binley, Chief Scientific Officer, Ikarovec
Tell us about Ikarovec and your role at the company?
Ikarovec is focused on the development of novel gene therapies to treat chronic ophthalmic conditions that have a complex pathophysiology such as age-related macular degeneration. I joined the company in July 2020 as the CSO to build the scientific team, set the scientific strategy and oversee the scientific operations to ensure the team works as efficiently as possible to deliver the company goals.
What are your achievements for the company that you are most proud of?
Despite the challenges we faced in 2020 at the beginning of the COVID-19 pandemic I am extremely proud that ikarovec was able to recruit a small but very talented team of scientists who have incredible expertise, enthusiasm and commitment to the gene therapy programmes. I am especially proud of the achievements we have made so far despite the on-going challenges of the pandemic.
The theme of this year's International Women's Day is #BreakTheBias with an action to 'call out bias' – how else do you think bias can be addressed?
There has been progress in recent years on gender bias in the work place with women increasingly being seen in more senior positions. However, I think it is still important to recognise that workplace gender bias still exists particularly subconsciously in many people's minds. Actively discussing and sharing women's history and experience is transformative and it's really up to us to call out the accomplishments of women. This should begin in schools to ensure girls know that they are capable of achieving anything. I have enjoyed the opportunity to speak with secondary school students about my science education and career path, and I often think that it would have been useful if this had happened when I was at school but there is an opportunity to encourage more of this in the future. I think it's important and inspiring for women to be reminded of those who've gone before, shaping industries, inventing new technologies and leading great teams.
Do you have any words of advice for girls thinking about STEM careers?
Actively engage with a good mentor, ask lots of questions and share your ideas with your colleagues. Believe in yourself and do not be afraid.
---
Lucy Jung, CEO, Founder, Charco Neurotech
Tell us about Charco Neurotech and your role at the company?
Lucy Jung is a founder of Charco Neurotech, and design engineer focused on projects related to patient care. She is currently participating in the Cambridge Judge Business School Accelerator Programme. Lucy has previously attained her Innovation Design Engineering MA (Distinction) at Imperial College London and Royal College of Art, and Industrial and Informatic Design BA by Korea University. She gained experience as Product Designer at Samsung Design Membership and PDD London, and as Marketing Intern at Cheil Worldwide. She has conducted extensive research with patients to gain further insight, and develop prototypes to test alongside the users themselves. Established in 2019, Charco Neurotech was founded with one ambition: to bring back smiles for people with Parkinson's. This led to their design of the CUE1, a non-invasive wearable device. The CUE1 alleviates certain Parkinson's symptoms, including stiffness and slowness of movement. It achieves this by utilising two vibration-based therapies: focused stimulation and cueing, both of which are research-validated. It also incorporates discreet medication reminders and an accompanying app, which enable the user to track their symptoms. Through these innovations, we hope to improve quality of life for all with Parkinson's.
What are your achievements for the company that you are most proud of?
Being able to carry through the CUE1 from a university research project to a fully realised device has been amazing. Since we launched in December last year, we've been able to see the real impact it has made to people's lives, which has only served to spur us on even more.
The theme of this year's International Women's Day is #BreakTheBias with an action to 'call out bias' – how else do you think bias can be addressed?
Calling out bias is one of the most impactful ways to address the issue, though cannot be taken as a catch-all. Bias can take many forms, of course, with unconscious bias being the focus of much recent discussion around reforming the workplace. I think that any concerted effort to address these must view the issue holistically, with training and procedures to reflect this. I would also note that, in my opinion, positive changes happen once you ensure that these issues are addressed in an all-pervasive way, throughout an organisation, rather than trying to solve particular areas in isolation.
Do you have any words of advice for girls thinking about STEM careers?
Just Do it! Having started out as a designer, I've loved transitioning into a STEM field, and would advise anyone thinking about pursuing a career in STEM to explore it further. I would also say that it's always important to understand that there are many different routes into STEM – sometimes, instead of focusing on one particular career or role, understand what you would like to achieve within a career, and structure your research around that :).
---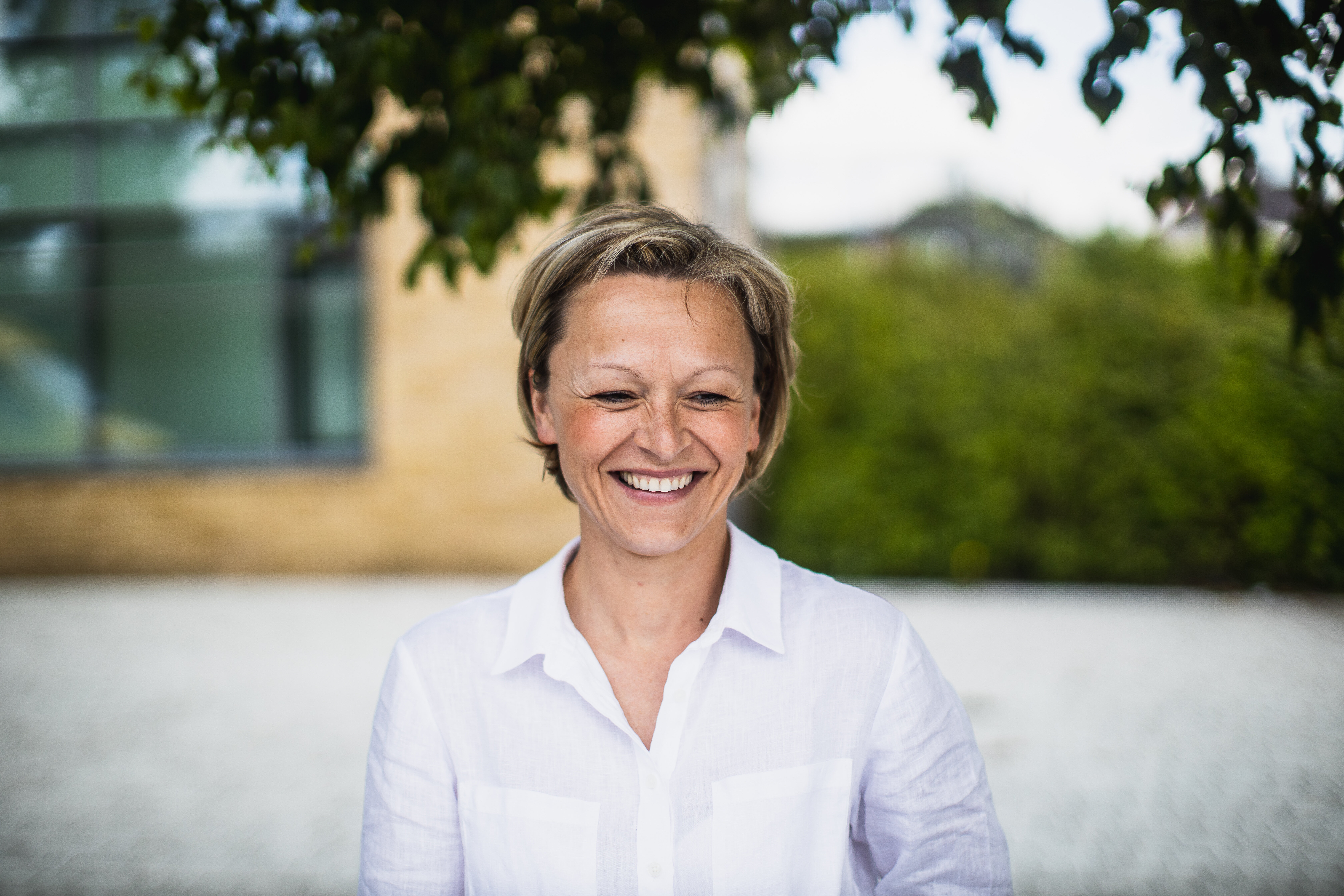 Marta Ostroumoff, Chief Financial Officer, Oxbotica
Tell us about Oxbotica and your role at the company?
Oxbotica is a world-leading autonomous software company. Being an AI company at heart, we focus on creating software that enables Universal Autonomy – the ability of any vehicle, of any size, in any location to operate autonomously – safely and sustainably.
We have developed a horizontal platform solution that can be configured to our customer needs across many industries. Through this technology, we are unleashing the benefits of self-driving technology to every person and every organisation on the planet.
Thanks to our collaboration with category-defining partners like ZF, Ocado and bp, Oxbotica's autonomy software platform is proven in real-world environments: from underground mines and wind farms to warehouses, ports and congested city streets; on-road or off-road; with tracks or without.
We are a people's organisation with a wonderful culture which we value and cherish every day. This makes us unique and enables Oxbotica to be the employer of choice for the truly world class talent whom we retain and attract. We are highly diverse and inclusive and I am immensely proud of that.
As for my role, I am Oxbotica's CFO or what I like to call it, a 'Mistress of Coin'. Apart from the finance function, I oversee other business support departments such as procurement, property, insurance and legal.
As part of the senior leadership team, I have the privilege of working with technical masterminds as well as industry experts who most importantly are wonderful people and make the experience worthwhile every day.
What are your achievements for the company that you are most proud of?
There are a few but the one I'm really proud of is acting as an enabler for growth which accelerates the business and allows it to reach its full potential sooner. This is through building agile and resilient business support teams, effective execution of capital raise processes and a highly collaborative way of working with many teams across the organisation.
The theme of this year's International Women's Day is #BreakTheBias with an action to 'call out bias' – how else do you think bias can be addressed?
Our actions at Oxbotica are guided by our principles, with inclusivity at our core. We stand firm in our commitment to diversity, and we will continue to invest in D&I initiatives, collaborate with local communities, and work to understand the intersectionality of our workforce. These small but continuous steps will help us address and #BreakTheBias.
Do you have any words of advice for girls or young women thinking about STEM careers?
Pursue your dreams, there is no such thing as 'can't do' – anything is possible. So, find your niche and be ambitious, it is you that is in charge of where you want to go and how fast you want to get there.
Most importantly, enjoy the experience along the way!