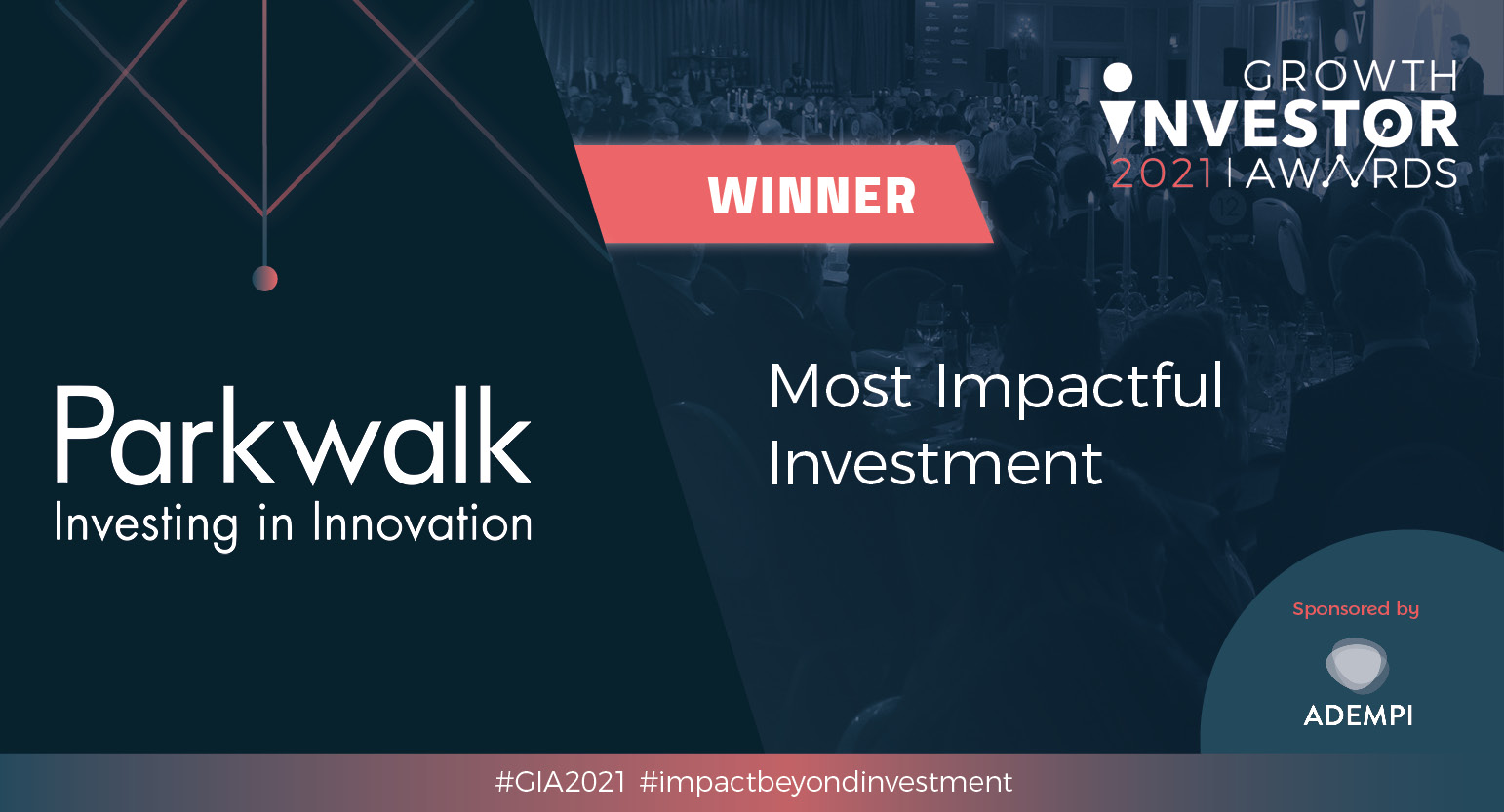 Parkwalk are delighted to announce two award wins at the Growth Investor Awards 2021. Parkwalk were awarded 'Most Impactful Investment' for their portfolio company Congenica and their pioneering work in genomic data analysis; as well as winning 'Best New Product' for their Knowledge Intensive EIS Fund I – one of the first Knowledge Intensive Funds to be launched in the EIS industry.
Now in their seventh year, the Growth Investor Awards are organised by Intelligent Partnership and were created to celebrate the contribution of businesses and individuals within the financial services and investment industries, who support UK small and medium size businesses and the UK's entrepreneurial ecosystem.
A panel of 41 judges narrowed down 112 entries across 19 award categories, and this year's winners, runners-up and 'ones to watch' were considered to be at the forefront of the 'investment-led recovery' that the UK Government has prioritised to help pave the way back to economic prosperity.
Guy Tolhurst, founder of Intelligent Partnership, said: "After last year's virtual awards ceremony, it was great to be back in the same room with so many of the people who have helped to make these awards such a sought-after accolade over the last seven years. Together, we celebrated the companies such as Parkwalk, who are right at the heart of the UK's SME investment industry – putting growth capital to work, helping to deliver technological advances and creating world-beating sustainable businesses. The work they do has never been more significant."
Moray Wright, CEO, Parkwalk, said "We are pleased to be recognised for our 'impact beyond investment', as we truly believe that the distinct asset class of university spinouts has the ability not only to generate attractive investment returns but also positive returns for broader society. Our portfolio company Congenica are a great example of this, leading the way in genomic analysis of rare diseases and inherited cancers.
We are also delighted to be recognised for the successful launch of our Parkwalk Knowledge Intensive Fund I, as 'Best New Product', given a successful first fundraise and on the brink of our second Knowledge Intensive EIS Fund launching in December 2021, which will take advantage of our plentiful knowledge intensive deal flow from our university and co-investor network".
For more information on our ESG policies, news on Congenica or further information on our next Knowledge Intensive EIS Fund II which will be launching soon, please click here.