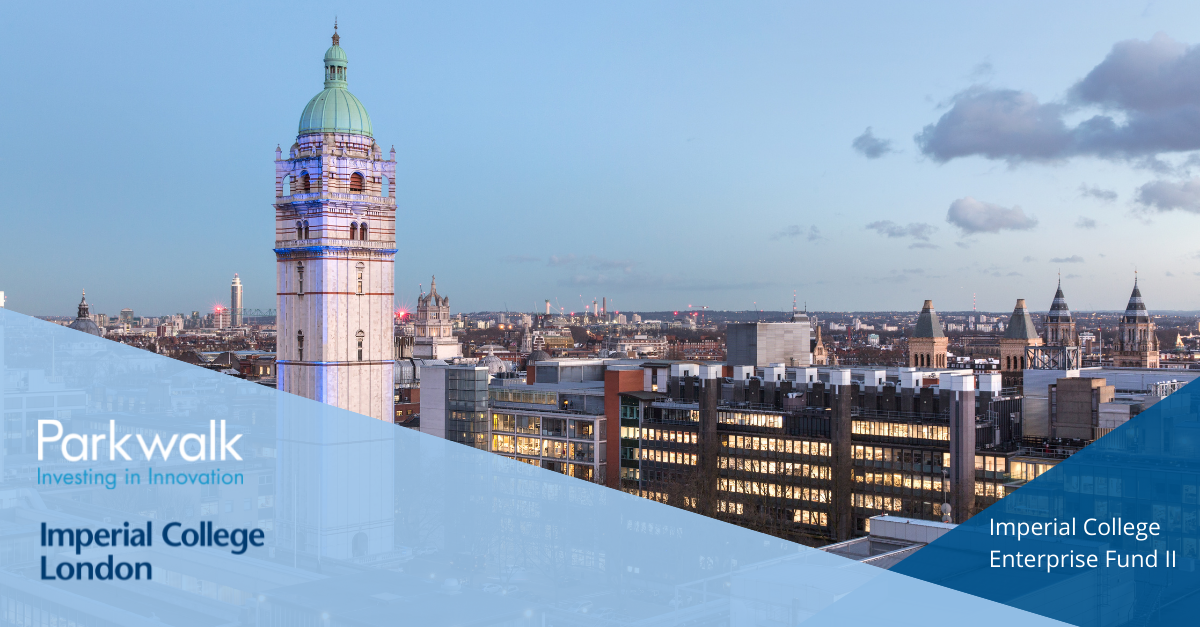 Parkwalk are pleased to announce the launch of the second Imperial College Enterprise Fund, that will invest in startup companies with a strong connection to Imperial College London and companies from Imperial's entrepreneurial ecosystem. In addition, the first Imperial Innovation Fund announces the next investment for the portfolio, an investment into Cheesecake Energy, a UK energy storage startup.
If you would like to find out more about the Imperial College Enterprise Fund II and the Enterprise Investment Scheme (EIS), please contact us on enquiries@parkwalkadvisors.com or 020 7759 2285. Please see the risk warnings at the bottom of the page.
---
The Imperial College Innovation Fund (ICIF) today announced it had led a £1 million seed investment round for UK energy storage startup, Cheesecake Energy Ltd (CEL). The round, which includes Perivoli Innovations, and prominent business angels, will fund the development of CEL's manufacturing capabilities and its lead eTanker storage system.
ICIF, which invested £300,000 in this round, is an early-stage investment fund launched at Imperial in early 2020. It invests in startup companies with a strong connection to Imperial College London, such as those founded by students, members of staff or alumni, or companies which have engaged extensively with Imperial's entrepreneurial ecosystem.
CEL is the fifth investment from ICIF I, and with a number of deals in the pipeline, the Imperial team is confident that the fund will be fully committed shortly. As a result, Imperial, and Parkwalk the fund manager, have launched Imperial College Enterprise Fund II (ICEF II) to continue to take advantage of the deal flow emulating from Imperial.
Other investments in ICIF I portfolio includes Charco Neurotech, a non-invasive vibrating device called CUE1, to manage Parkinson's symptoms; and FreshCheck, a company that has developed a novel colour change technology to detect bacterial contamination on surfaces.
The latest investment, CEL, was founded by Imperial PhD Mike Simpson (Chemical Engineering), and is developing a green energy storage technology known as eTanker that stores electricity in the form of compressed air and heat. eTanker is deployed in a modular, containerised package, making it suitable for a range of terrains and applications in industry including local renewable microgrids, electric vehicle fleet charging and heavy industry.
CEL is targeting the medium-duration energy storage market – applications in which technologies such as batteries are uneconomic, and large-scale solutions like pumped hydro systems are unsuitable. "We realised that current technologies were not feasible for key sectors like transport and commercial industries where longer discharge durations are needed and batteries become uneconomic," said CEO Mike Simpson.
The company is progressing its first pilot system with Nottinghamshire County Council – helping the Council to achieve some of the goals laid out in its carbon management plan. As councils and fleet operators begin to develop new infrastructure to support the charging of electric vehicles, many are being forced to consider costly, disruptive grid upgrades to support the increased demand for power. CEL's eTanker storage system can overcome these constraints by managing the capacity available from the existing grid connection, filling up the store when EV charging demand is low and making that energy available when needed by the vehicles. This can more than double the power available for charging, unlocking full electrification and giving fleet operators and local authorities the ability to choose the zero-emission solution for their journeys.
Martin Glen, Investment Director at Parkwalk, said: "We have been impressed with the quantity and quality of the deal flow from Imperial, and Cheesecake is a prime example of the type of investments that ICIF I has backed. Imperial College Innovations has done a great job in selecting the opportunities for the investment committee, and given the upcoming pipeline, we are delighted to launch ICEF II."
Brijesh Roy, Seed Investment Manager at Imperial College London, said: "CEL has assembled an impressive technical and commercial team, working on a technology that could accelerate a UK Green Industrial Revolution. I'm proud that our investments continue to support deep technology businesses seeking to make a significant impact."
Mike Simpson, Chief Executive Officer, Cheesecake Energy Limited, said: "This investment round will support CEL as we further optimise our sustainable energy storage technology, improving performance while driving down costs. We believe the benefits our technology can offer over current market-leading solutions like lithium-ion will help to accelerate decarbonisation in key sectors such as transport and heavy industry."
About Imperial College Innovation Fund I
The Imperial College Innovation Fund I (ICIF I) invests in startup companies with a strong connection to Imperial College London, such as those founded by students, members of staff or alumni, or companies which have engaged extensively with Imperial's entrepreneurial ecosystem. ICIF I is managed by Parkwalk, the largest EIS fund manager, backing world-changing technologies emerging from the UK's leading universities and research institutions.
Cheesecake Energy Limited's eTanker Technology
CEL's proprietary technology – covered by 10 patents – revolutionises established compressed air energy storage by storing two-thirds of the electricity as heat, at a lower cost. CEL believes its innovation will lead to 30% – 40% cost reductions for energy storage, coupled with portability and flexibility that will make it attractive for many applications.
eTanker uses ex-service truck engines, which are converted into zero-emission electrical power conversion machines for energy storage. These drive compressors, which deliver high pressure air and heat into storage units. When electricity is required, the air and heat pass back through the converted truck engines – now acting as turbines – to turn a generator and produce electricity.
Cheesecake and Imperial College London
The CEL team came together initially around a body of research work focused on advancing electricity storage in the form of thermal and compressed air energy storage. That solution emerged from over a decade of research work at the University of Nottingham led by Professor Seamus Garvey. With investment and continued support from both the University of Nottingham and Imperial College London, the company is on track to commercialise its revolutionary energy storage technology. Co-founder and CEO, Mike Simpson, was a PhD student at Imperial College London when establishing Cheesecake Energy Limited. Mike Simpson said "The support from Imperial has been pivotal in our development. I'm especially grateful for the networking and mentorship we accessed through the pre-accelerator programme, Venture Catalyst Challenge (2017), and the Imperial Venture Mentoring Scheme, both of which have really helped us refine our business strategy."
About Cheesecake Energy
Cheesecake Energy is developing the world's greenest energy storage technology, lowering the cost of medium to long-duration energy storage, and turning renewable energy sources like wind and solar into reliable, on-demand power.
Our breakthrough system, eTanker uses thermal energy storage and compressed air to achieve costs that are 30-40% lower than that of the cheapest batteries currently available, by repurposing long-lasting, proven industrial components from existing automotive, oil and gas equipment supply chains.
---
Parkwalk Advisors Limited (Parkwalk) is authorised and regulated by the Financial Conduct Authority: FRN 502237. Investments referred to in this news article are not suitable for all investors. Capital is at risk and investors may not get back the full amount invested. Tax reliefs subject to individual circumstances. Any investment in a Parkwalk product must only be made on the basis of the terms of the full Information Memorandum. Tax treatment depends on the individual circumstances of each investor. Parkwalk is not able to provide advice as to the suitability of investing in any product.