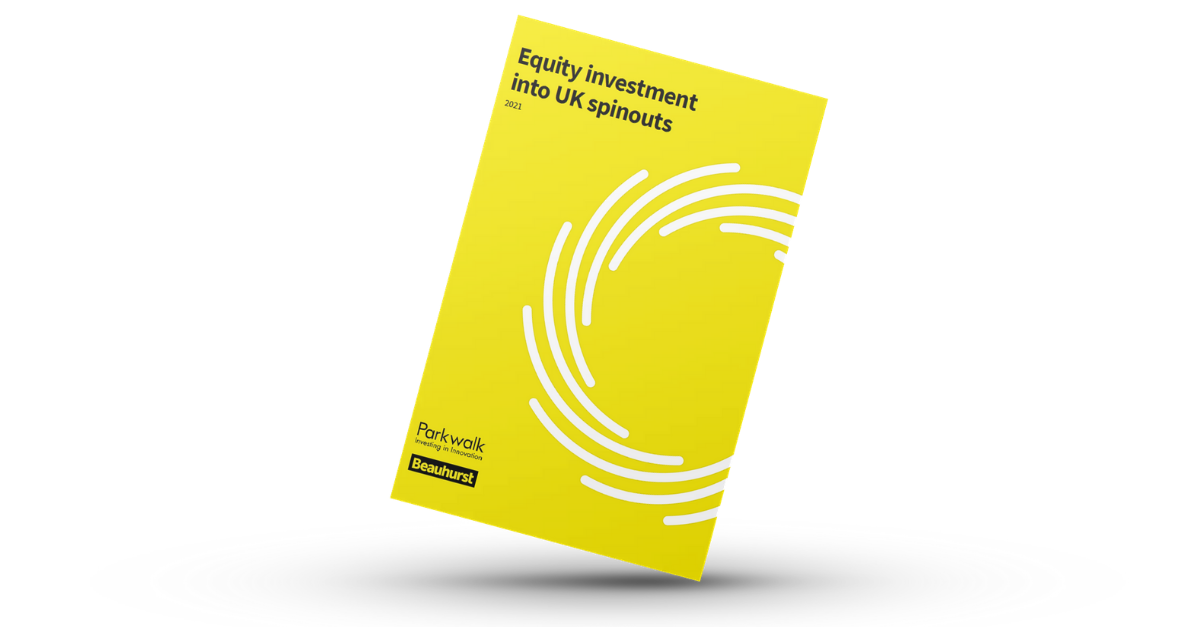 UK deeptech scaleup sector remains significantly underfunded despite an increase in funding for academic spinouts
Research commissioned by Parkwalk shows that while 2020 saw an increase in funding for academic spinouts, this was not the case for deeptech scaleups
This report was also highlighted in The Scotsman, see here and to access the report see here.
The past year has demonstrated how important deeptech innovation is to solving some of the greatest challenges faced today, from finding vaccine candidates for the Covid-19 pandemic through to solving climate change and transforming healthcare. The UK's deeptech sector is a critical part of the government's post Brexit ambition for the UK to become a global 'Science Superpower'.
Parkwalk has once again commissioned research into equity investment into the UK spinout sector over the past year, which has found that while there has been an increase in funding for academic spinouts in 2020, there remains a significant dearth of funding at later stages, in particular from UK investors. This could create significant issues not just for UK PLC, which benefits from this early-stage R&D, but also more broadly, restricting the impact the sector can have on the UK economy in terms of job creation and growth.
Moray Wright, co-founder and CEO of Parkwalk, said: "The last year has shown the world the power of scientific research, and 2021 is going to be an important year in setting out the UK's post-Brexit priorities. If the Government genuinely wants to create a 'scientific superpower', it should look at how it can help create a sustainable financial ecosystem for this sector. A commitment from the Government to increase R&D spending to £22 billion annually is a positive move, but there needs to be a financial ecosystem to support this grassroots investment if the UK is to produce leading global businesses. This report highlights how the Government can assist in creating this ecosystem: activity north of the border in Scotland was high in 2020, driven by Scottish Enterprise, an entity funded by taxpayer money."
University spinouts are a unique asset class in early-stage and growth investing, because they typically have years of R&D underpinning their technologies before they seek investment to commercialise. Developed by leading experts in their field, they are well-tested, with strong IP protection.
Other key findings from the research include:
Deals involving UK spinouts accounted for 6% of all deals in 2020. While this is a recovery from the low of 5% in 2018 and 2019, it still trails the highs at the start of the 2010s.
Spinouts from the University of Oxford raised the most equity investment in 2020. Five deals by Oxford Nanopore accounted for 34% of the £500 million total. Spinouts from the University of Cambridge raised £229 million in 2020, with the top sum of £39 million raised by genome analysis tool maker Congenica last November.
While there has been a jump in funding for academic spinouts, the bulk of the investment is focused in a limited number of companies – less than 3% of deals account for more than 40% of capital invested.
Over the past 10 years, 50% of investment in announced funding rounds into UK companies came from foreign investors.
The dramatic drop fall in first-time deals in 2020 was likely a consequence of fund managers concentrating on supporting their existing portfolio, which could impact on the next cohort of large spinout companies.