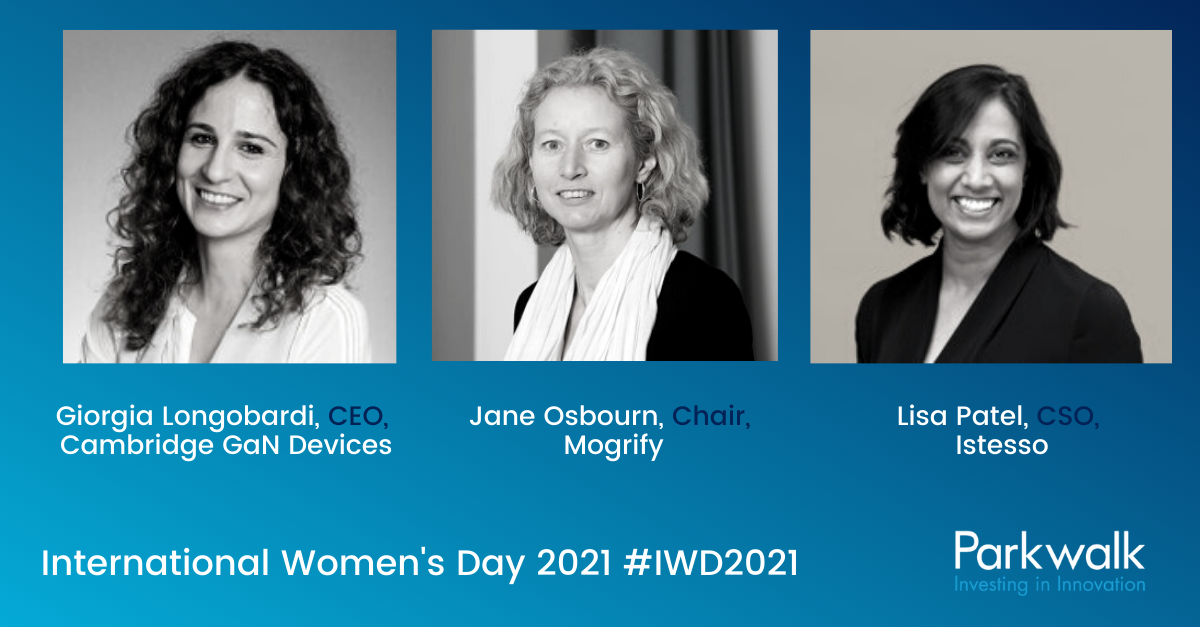 To celebrate International Women's Day 2021, we asked three of our portfolio companies, who are led by successful women, a few questions around working in venture capital, gender equality and their achievements to date.
We are proud to work with such impressive individuals both within our portfolio and in our Parkwalk team – including Cassie Doherty, Investment Director at Parkwalk, who was recently named as one of the 'Top 10 female VCs in UK tech' by UK Tech News.
Read the short interviews below in celebration of IWD 2021.
Giorgia Longobardi, CEO, Cambridge GaN Devices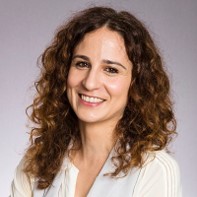 Tell us about Cambridge GaN Devices and your role at Company?
Cambridge GaN Devices is a spin-off of the University of Cambridge funded to exploit a revolutionary technology in power devices. I am the co-founder and CEO and I have been leading the company since its first days when it was 3 of us till now when we are a team of 20 people, we have closed our Series A round, and we are entering the commercialisation phase.
Tell us about your achievements for the company that you are most proud of?
I am most proud of having built a team of people that have in common incredible expertise, strong commitment, enthusiasm for the technology, and that share common values. With a team like ours I am not afraid of the challenges ahead.
What helped you choose your current career path?
My career path is a combination of hard work, opportunities, willingness to take risks and…chance. My PhD and my Research Fellowship at Gonville & Caius College have been instrumental. The network of Entrepreneurs and mentors from the Cambridge cluster and Royal Academy of Engineering have supported the development of my leadership skills. My travelling around the world while doing research have helped me to see things from different points of view which I believe is an essential skill for a CEO.
What would you recommend should be done to make the industry gender equal?
Planning for support for women in companies, including in SMEs. This should start from hiring level (e.g. making job ads gender neutral in the choice of words) to budget level (including in the budget categories for supporting a career break or for family care) to building facilities within the companies for supporting women with children.
Do you have any words of advice for women entrepreneurs with STEM backgrounds?
My advice is to engage with like-minded women entrepreneurs that can share their experience and to always believe in oneself independently on what society stereotypes suggest.
Lisa Patel, CSO, Istesso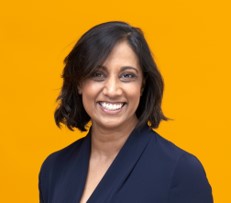 Tell us about Istesso and your role at Company?
Istesso is discovering and developing new treatments for serious and complex diseases. Our approach is to reprogram cellular metabolism; essentially, we subtly and specifically alter the way the immune system processes energy and thereby change their behaviour.
My role as CSO is to set the company's scientific strategy, build and lead the drug discovery and development teams, oversee scientific operations, and ensure we act as an integrated unit to develop new drugs as efficiently as possible.
Tell us about your achievements for the company that you are most proud of?
Istesso originally started as a small company with some very interesting biology and a single employee- me! The company grown from there to one with a world-class drug discovery and development team, a drug with the potential to improve the lives of patients with severe diseases, and a pipeline of assets behind it. I'm really proud of the way Istesso has grown, of how we've been able to translate our original observations into potential benefits for patients, and of how I've been able to help achieve that.
What would you recommend should be done to make the industry gender equal?
I often hear diversity discussed as a numbers exercise, but to me, improving equality is about more than that. So in addition to making structural improvements to support women's careers I'd take steps to ensure women's voices are heard, and listened to, more effectively across the industry. I'd create an environment which proactively recognised differences in communication style, and then acted to embrace it. Simple first steps might be to end the 'manel' and ensure equality when inviting people to speak or present in any setting.
Do you have any words of advice for women entrepreneurs with STEM backgrounds?
I would advise them to go for it. Go for the big goal and don't be afraid.
Jane Osbourn, Chair, Mogrify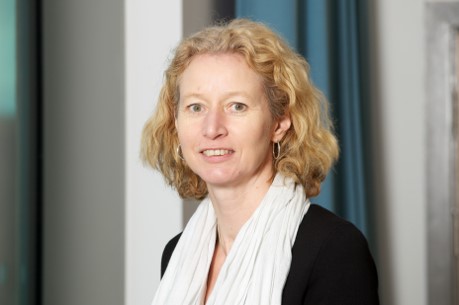 Tell us about Mogrify and your role at Company?
Mogrify is an innovative cell therapy company which has created a platform capable of identifying of bespoke transcription factors which enable the conversion of any cell type to any other cell type. This has the potential to deliver many novel cell and impactful therapies for patients. I took on the Chair role about 18 months ago because I am hugely excited by the possible applications, by the quality of the scientific and managerial team and felt my experience in drug discovery and development could help support the company's growth.
Tell us about your achievements for the company that you are most proud of?
During my time at Cambridge Antibody Technology, MedImmune and Astra Zeneca I have been part of many highly skilled teams and over the years we have delivered 8 biologics medicines to the market, helping improve the lives of millions of patients spanning diseases such as Rheumatoid Arthritis, cancer and respiratory disease. This positive impact on disease and improving patients' lives is what I am most proud of, and I am also proud of helping create the collaborative attitude that was critical in enabling delivery of these medicines.
What would you recommend should be done to make the industry gender equal?
For me diversity is not necessarily about gender, it is about ensuring people from different background, with different approaches, ideas, learning styles and ways of challenging the status quo are represented and their views are listened to. This means carefully considering team composition and taking to time to encourage members of the team who are more reflective to contribute to discussions and give their views. I take this very seriously in all my Chair roles and I make sure I ask for different perspectives and give people to space and time to contribute. Listening is an under-rated skill in our industry and that is the skill that should be more actively nurtured.
Do you have any words of advice for women entrepreneurs with STEM backgrounds?
I wish I had had more self-belief and confidence right from the start of my career; I took too long to realise that my ideas were valuable. My simple advice would be to say what you think and test your ideas with your colleagues; that way both you and your ideas can evolve and flourish.
Jane is also CSO of Alchemab Therapeutics
A big thank you to Giorgia, Lisa and Jane for sharing their views with us.