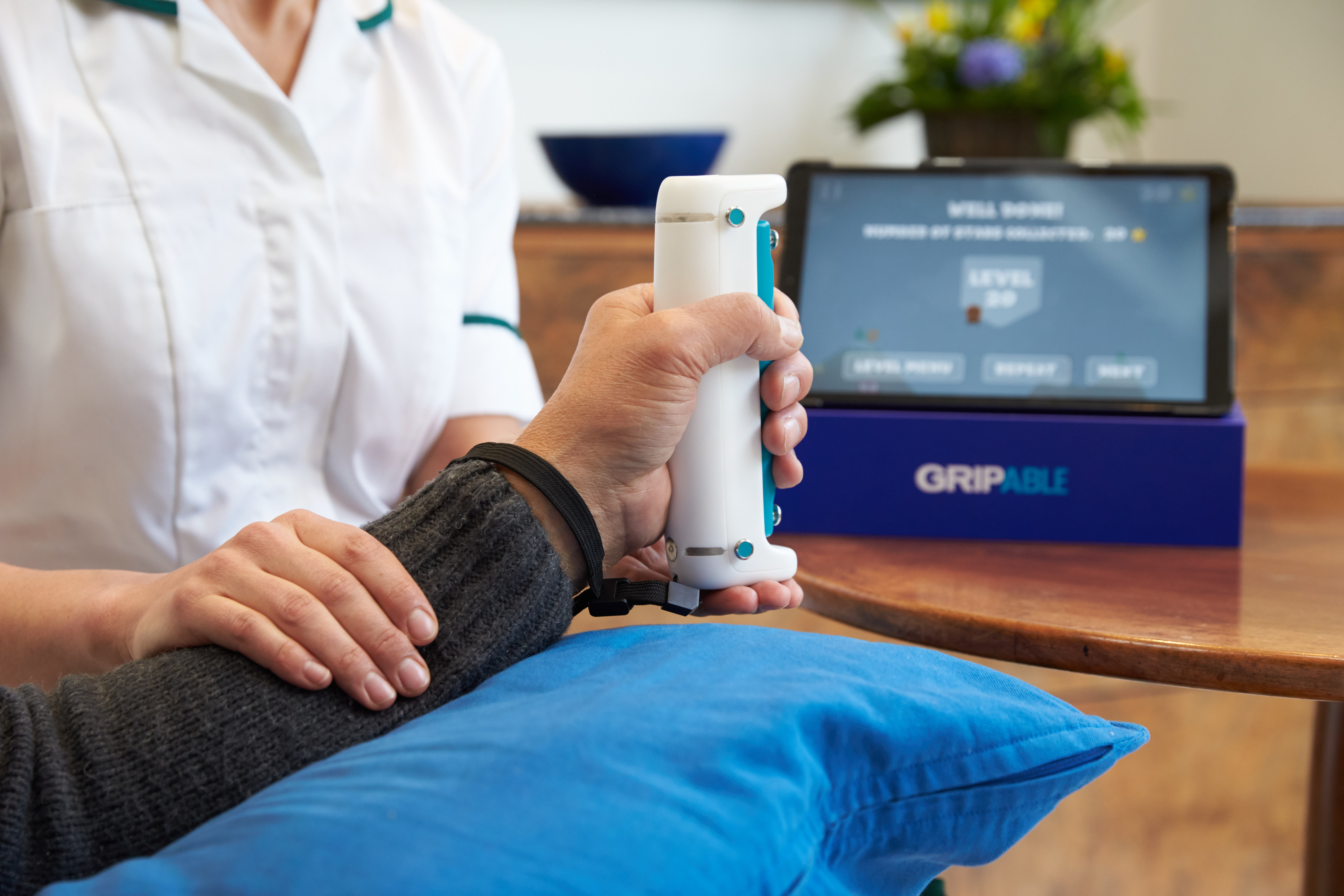 The Imperial College Innovation Fund (ICIF), an early-stage investment fund launched at Imperial in early 2020 and managed by Parkwalk Advisors to invest in early-stage, high-growth, knowledge-intensive companies, has completed an investment of £250,000 into GripAble
GripAble, an Imperial College London spin-out focused on digitising upper limb rehabilitation for patients with arm weakness, has announced the successful close of its £1.6 million pre-Series A funding round. The Imperial College Innovation Fund invested £250,000 in the £1.6 million round, which was led by Triple Point Ventures with additional funding from the Oxford Technology Fund.
Established in 2017 by Imperial researchers Dr Paul Rinne (Departments of Bioengineering and Medicine), and Dr Mike Mace (Bioengineering), GripAble has developed a digital platform that incorporates hand-held sensors, software and data services to support upper limb rehabilitation for patients with arm weakness.
Arm weakness can be caused by a range of conditions, including musculoskeletal disorders or brain damage, such as stroke, and it affects over 5 million people in the UK alone. Limited arm movement impinges severely on quality of life, making everyday tasks such as opening a jar, pouring water, getting dressed and eating more difficult.
Rehabilitating arm movement is possible through guided physiotherapy treatment, usually involving many repetitions of a variety of exercises each day. In the case of neurological conditions, repeated movements activate new neural pathways to replace those that have been damaged or destroyed.
The gold standard of care is delivered through one-to-one therapy and makes use of tools such as wooden blocks and putty. This level of treatment is expensive and has become increasingly difficult to deliver during the COVID-19 pandemic. Furthermore, patients are often unmotivated and may find it difficult to complete exercises – and when they do, therapists find it difficult to accurately track results and monitor improvement.
GripAble has developed a hand-held sensor that is used by patients to control a range of digital games and applications. The device is sensitive to a range of types of movement, such as squeezing, turning or lifting, and these are used as inputs for games designed to hold patients' attention and encourage them to complete exercises. GripAble has paired this innovation with a data system that allows therapists to monitor patient progress, set goals, and deliver a greater level of personalised attention than is usually possible with remote rehabilitation.
To find out more about GripAble, see their website or our portfolio page.