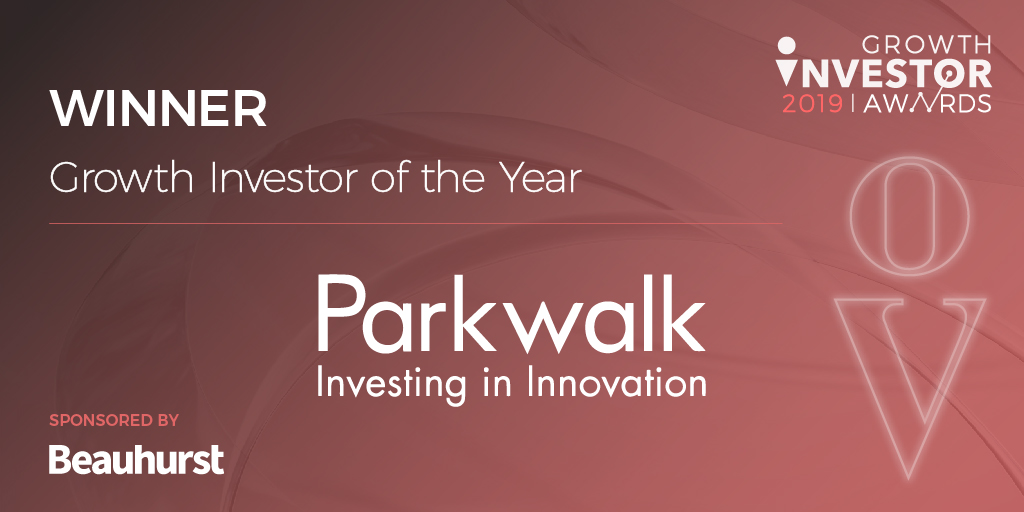 Parkwalk are delighted to have been named 'Growth Investor of the Year' and won the award for the 'Exit of the Year' at the fifth annual Growth Investor Awards.
For five years, these awards have shone a spotlight on the providers who have an impact beyond investment: creating jobs, boosting economic growth, and supporting innovation.
We are especially proud to have won The Growth Investor Award which was the event's highest accolade for investment providers. This award recognises outstanding investment managers demonstrating the best investment performance, the best product and service developments, and the best 'impact beyond investment' on customers and the wider business community.
And the 'Exit of the Year' category reinforces our investment performance, and the judges paid attention to the value added to the investee business, customer feedback and overall impact.
This award follows our 'Best EIS Fund' award from the EIS Association earlier this year (for the third year in a row). And inbetween the awards, 2019 has been a busy year for Parkwalk: we have invested £65m this year to date into a wide range of university spin-outs, in clean-tech, autonomous driving, AI and machine learning, med-tech, fibre optics, ag-tech and genomics.
We have generated six exits so far this year, three higher (returning between 7x and 12x) and three lower or written off. We have some further exits in the pipeline.
The New Year looks set to be an interesting one politically, and regardless of the Brexit outcome we believe our portfolio is well positioned to generate attractive returns for our investors. We believe our investment strategy is at the forefront of the government's industrial strategy in terms of supporting UK R&D and re-aligning the economy.
Our management teams continue to turn some of the UK's leading edge innovation into commercial successes, and would like to thank all our portfolio companies for their hard work.
Thank you to the Growth Investor Awards for a great event and to the judges for the Parkwalk awards.