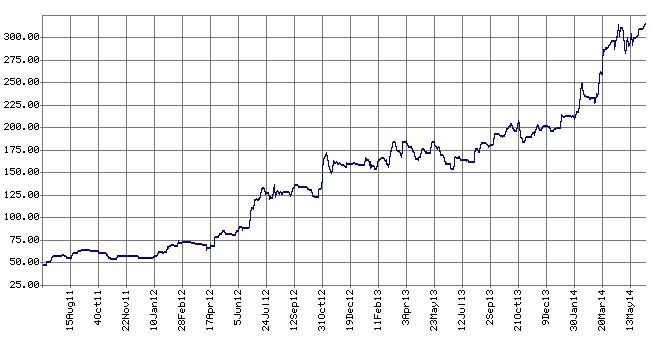 We are delighted to announce that the Parkwalk UK Tech Fund II and a Parkwalk Syndicate have successfully exited Tracsis plc.
We invested in June 2011 at 45p per share (31.5p net of initial tax reliefs) and exited in June 2014 at 308.5p per share, representing a 6.9x return for investors, and approximately 10x inclusive of tax reliefs, in three years and 2 days.
The exit led to investors in the Parkwalk UK Tech Fund II receiving back substantially more than their original subscription into the Fund on one exit, with several other portfolio companies in the Fund still showing commercial potential.
Tracsis plc 3-year chart to June 2014 (source: LSE)